Bitcoin is on the move … support and resistance points … where do Matt and Louis stand on their Race to 40K bet?
Bitcoin is breaking out.
Over the last three days, the cryptocurrency has shot up 12.5% (as I write Thursday morning).
We put this trade on your radar last week.
From our Monday, 10/12 Digest:
… in general, bitcoin tends to have three directions: up sharply, down sharply, and sideway … there is little gradual-up or gradual-down.

Right now, bitcoin appears to be setting up for its next major move.
We then provided the chart below. It showed bitcoin's price action with trend lines added to highlight a compressing wedge pattern.
We drew attention to bitcoin's price pushing through the top of its upper trend line, suggesting this boded well for a bullish breakout.
Here was last week's chart: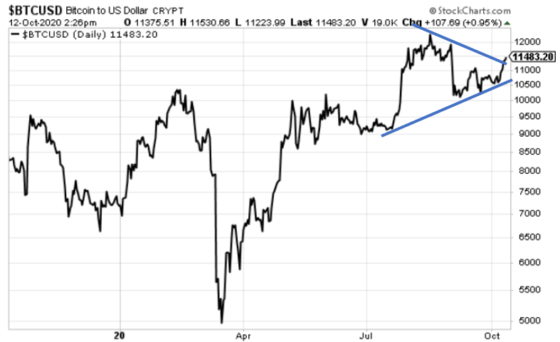 And here's the updated chart, with the bullish breakout circled in green.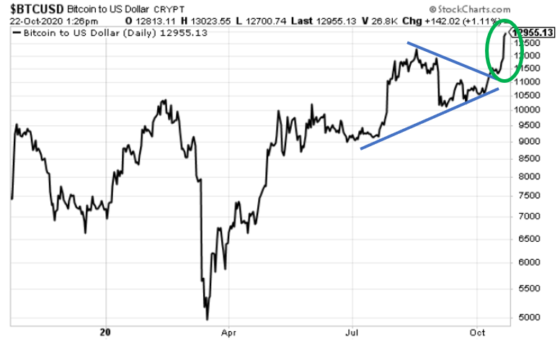 The press is attributing this latest to surge to yesterday's news that PayPal and Venmo will accept bitcoin.
From CNN:
PayPal says its new service will give customers the ability to hold and exchange Bitcoin, Ethereum, Bitcoin Cash and Litecoin cryptocurrencies using the company's digital wallet, which lets people shop online, request and send money …

The online payments company declared adding crypto was a significant milestone on the path to mainstream adoption of cryptocurrencies such as bitcoin.
We agree. And we're anticipating a domino effect of adoption that serves as a sustained tailwind for bitcoin's price in the coming years.

***This latest surge has taken bitcoin beyond the key level of $12,000
The issue now is whether the recent gains will hold.
From a technical perspective, this $12,000 level has been a resistance point for bitcoin this spring. Though it broke through this level back in mid-August, it quickly fell back, finding support in the $10,200 range.
Given this, the first test will be if bitcoin can turn this former-resistance point into a new, support point.
In other words, if prices fall from their current level, will they bounce off $12,000 or crash back through?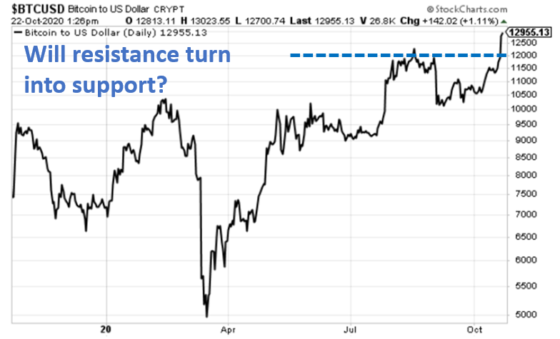 We should note that this latest surge has not only sent bitcoin shooting past the $12,000 barrier, it has also topped its June 2019 high of $12,913. As I write, it's trading at $12,965, though it pierced $13,000 last night.
The last time bitcoin rallied at these levels was all the way back in 2017 during the crypto's monster run up to $20,000, as you can see below.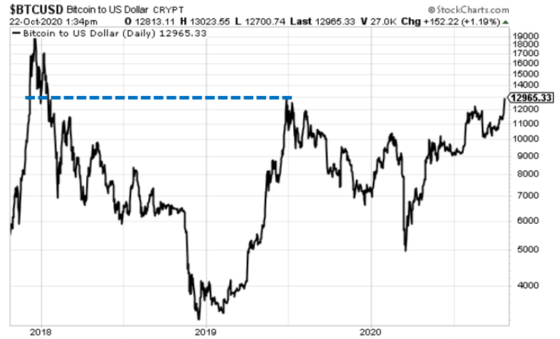 ***Altcoins are surging even more
I reached out to our crypto specialist, Matt McCall, for his thoughts.
For newer Digest readers, Matt is the analyst behind Ultimate Crypto.
Launching in January, his portfolio of elite altcoins is averaging a 95% gain as I write Thursday morning.
Since the altcoin universe is closely related to bitcoin, I asked Matt about bitcoin's surge.
From Matt:
This is the breakout I have been looking for.

After months of…


Read more:Bitcoin Breakout