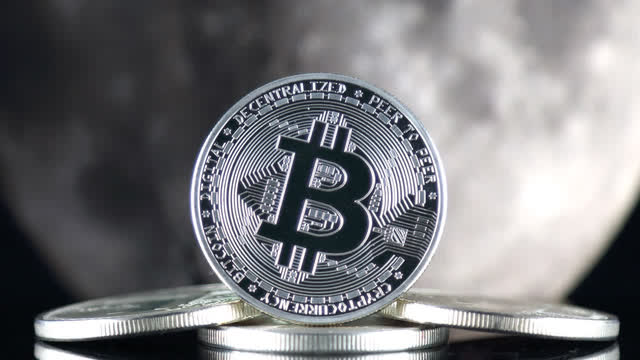 Source
Bitcoin (BTC-USD), as well as the blockchain enterprise sector in general, has become increasingly correlated with stocks in recent months. Due to the upcoming election, the lack of progress on the fiscal stimulus front, uncertainty about the state of the economy going forward, the likelihood of an increase in volatility, as well as other factors, things could get messy in the blockchain enterprise segment in the weeks ahead.
Bitcoin: 1-Hour Chart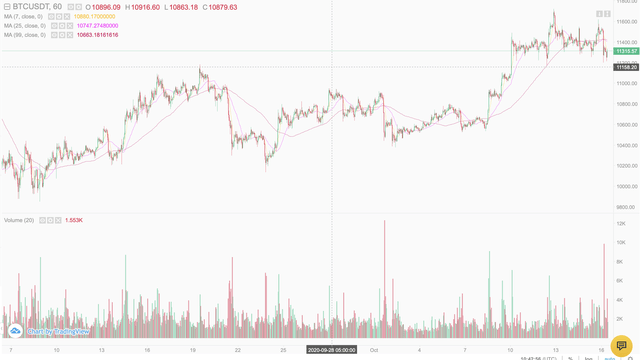 Source: Binance.com
We see that BTC is forming what appears to be another head and shoulders pattern, similar to the prior ones in the chart above. Furthermore, Bitcoin got rejected at the critical $11,800 resistance level recently and broke through support at $11,500. More recently BTC has been testing the $11,250 area of support and is dangerously close to breaking below this crucial level. If $11,250 gets penetrated, Bitcoin could melt down further below $11,000 and possibly retest $10,500, as well as $10,000 support levels next.
A Longer-Term Outlook
Despite the possibility for short-term downside, we remain quite bullish on BTC and the overall digital asset segment long term. As the above chart illustrates, BTC moves in waves, and the top of each wave is substantially higher than the previous top.
I see no reason for this trend to end, and the next major top will likely be substantially higher than the previous one around $20,000. In fact, I believe the next major top could be around $75,000, but it will likely take some time (1-3 years) to get there.
Bitcoin's Correlation With Stocks
Since the mid-March bottom, Bitcoin has roughly tripled, while the S&P 500/SPX (SP500) has appreciated by about 58%. Despite the clear outperformance, we see that Bitcoin has been moving largely in tandem with the stock market. This was also apparent during the February/March meltdown as stocks and Bitcoin essentially meted down simultaneously.
So, here we are now. The presidential election is approaching, certain economic indicators as well as some key company earnings are coming in worse than expected, fiscal stimulus seems to be off the table until after the election, volatility appears to be picking up, and Bitcoin coupled with stocks could experience another notable leg lower.
Long Term, Still Bullish
Despite the apparent correlation with stocks, we remain very bullish on Bitcoin and select blockchain enterprises in the intermediate and long term. One reason for this is because Bitcoin and systemically important digital assets are likely to play an increasingly important role in the future economy, as some offer valuable services and others serve as digital currencies/payment systems.
Furthermore, Bitcoin and other key "coins" are essentially inflation proof, as there is only a certain amount that can ever exist in circulation (Bitcoin 21 million). A stark difference to the dollar and fiat currencies in general that are being debased on a perpetual basis and can be printed endlessly if so…


Read more:Bitcoin: Another Mini-Meltdown Appears Likely (Cryptocurrency:BTC-USD)